LFA Digital – How Does School Building Design Empower Learning?
On Friday 5th June 2020 MEB Design Directors Mark Eddison and Charles Darby gave a talk as part of the London Festival of Architecture entitled How Does School Building Design Empower Learning? The talk was part of a series of LFA Digital events held virtually during June 2020, you can also access our virtual exhibition and webinar recording online as well as reading this abridged version of the talk below.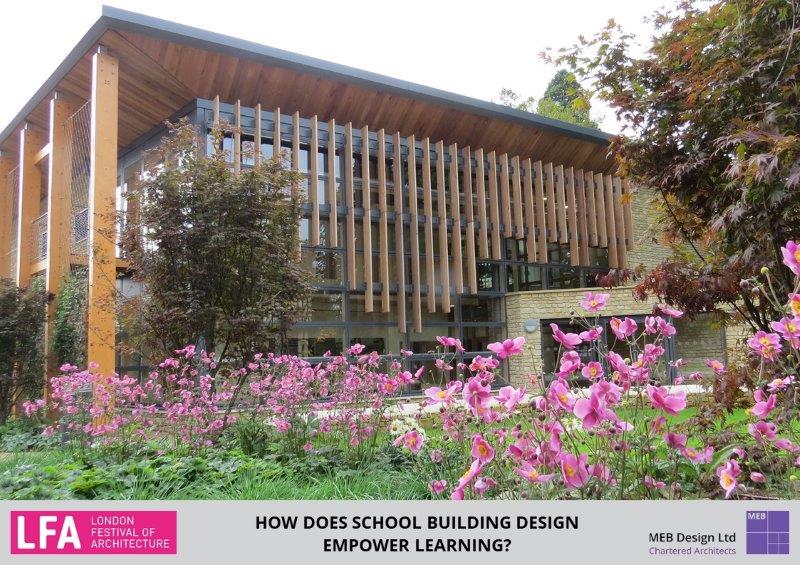 MEB Design was first established in 1983 and has specialised in Education buildings ever since. 37 years on over 30% of MEB Design's work is in this field and it is one of their largest sectors.
Mark Eddison is a founder and Director of MEB Design and Charles Darby is an MEB Design Director and lead for the practice's "Learning Communities" or Education Sector. They have both been working with and designing school buildings for their whole careers.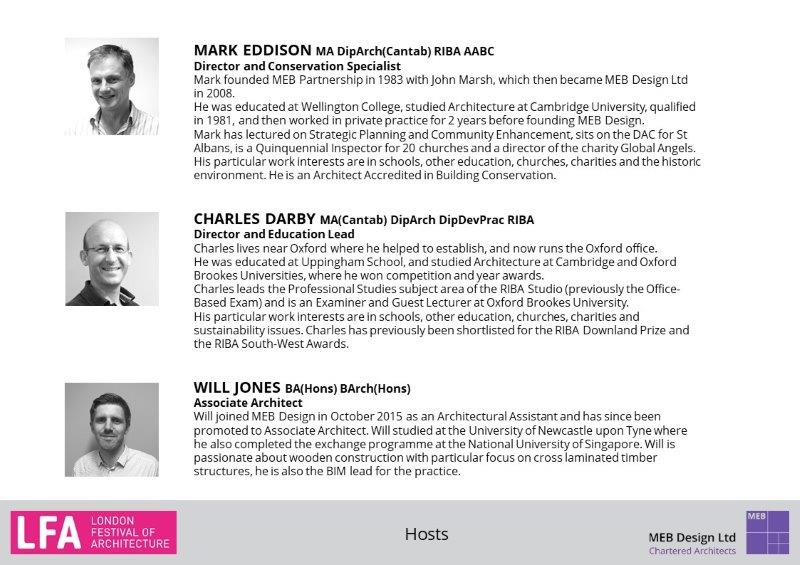 The Format
So now to the pictures and the questions they raise.
We will see how MEB Design has sought ways to either consciously and subconsciously include visual ways to aid learning. Have tried to, where we can, help students focus on content of lessons, and teachers to mix in new content.
And hope there are some visual markers to help students remember facts.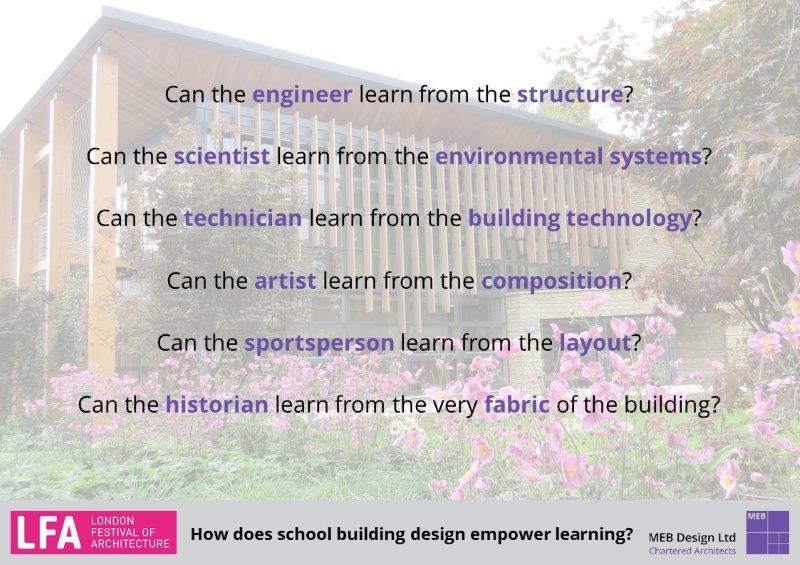 ENGINEER – Can the engineer learn anything from the structure?
01: Aldwickbury School – Multi-purpose Hall
Imagine you are child sitting where photo is taken. You are operating sound desk (not in the picture) as its your interest. One day might become sound engineer. What can child pick up about sound – and the way it is handled in room?
Might notice slotted panelling at lower level along sides; but did someone point out it's at right height for sound of voices on the stage to get absorbed inside slots avoid annoying echo.
The end wall has dark curtain in front of bare light wall. Is it possible to discern how curtain might work better as backdrop for play but bare wall for concert?
And why are chairs upholstered – is there good reason?
All these things exposed and visible, but visible will stay invisible till someone points it out. However at least as architects we have provided the possibility someone can point it out at some moment in time.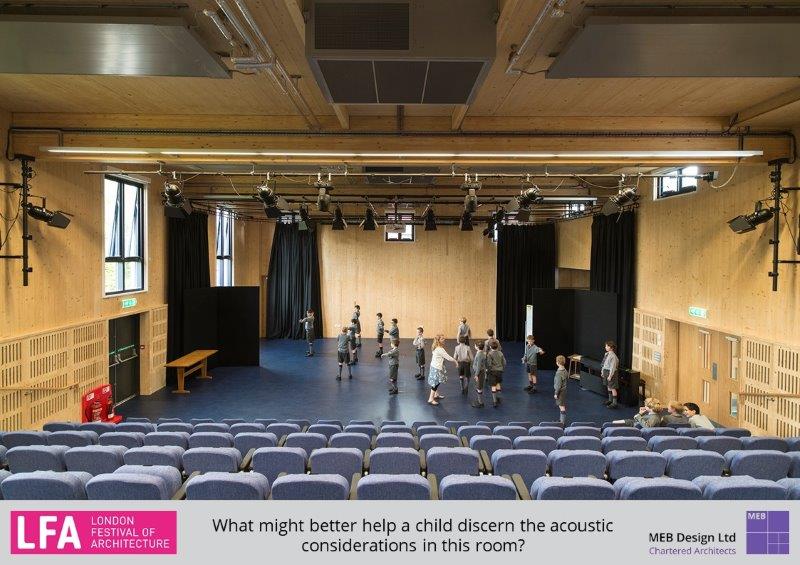 02: Aldwickbury School – Multi-purpose Hall – Superstructure under construction
Picture shows how structure using certain new methods of prefabrication off site, can be erected in very short space of time – in this case over summer holiday.
Can just see very tall crane top left hand side which lifted large panels into position to be propped.
But It took place over summer holiday, so teaching opportunities of construction method and physics of erecting structures could not be demonstrate to children – something has been missed perhaps, even if for good reasons.
There is environmental lesson also here: benefit of consciously choosing to use renewable material like wood – rather than concrete or steel. But this at least is still identifiable should teacher wants to talk about ways to respond to climate change.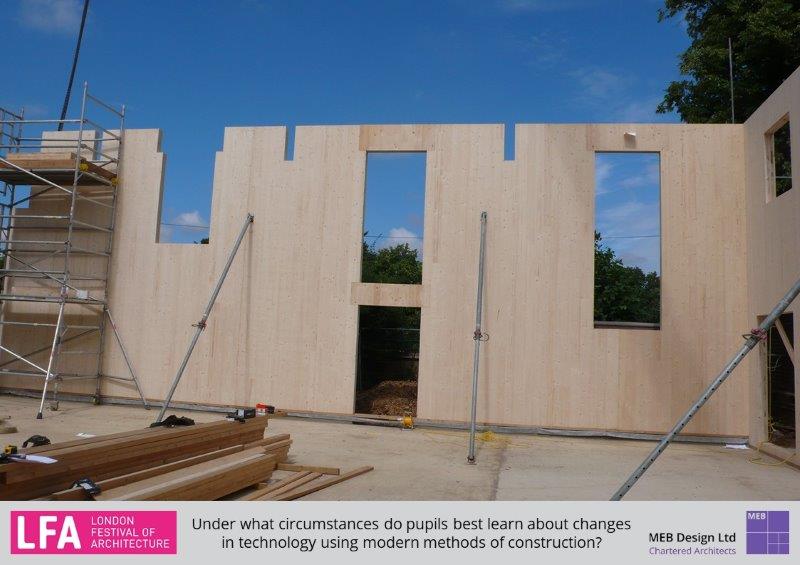 03: Dragon School – Forum Building
Visible and exposed structure
"Flying mast" with tension cable and ETFE – first of its type in UK
Exposed columns – primary / expressed versus secondary structure of beams etc
Coloured structure = different uses
All of these features are visible and can be pointed out to a pupil and explained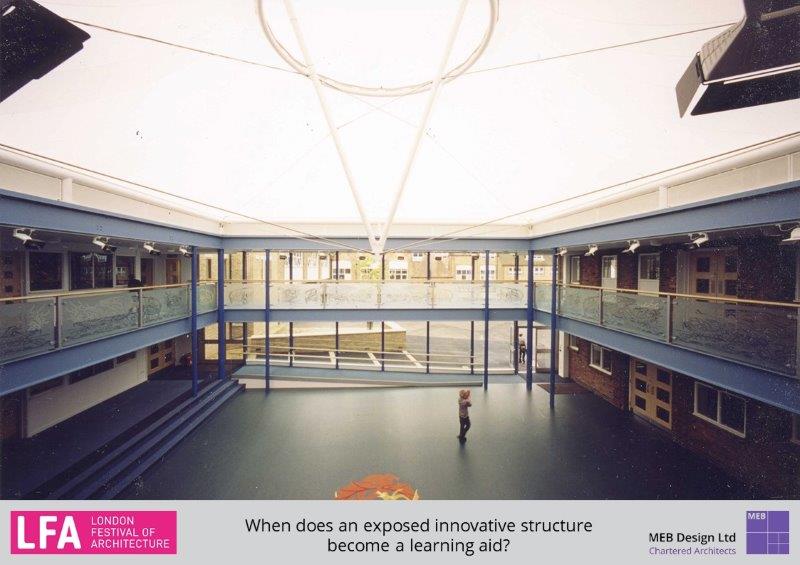 04: Dragon School – Forum Building
Now we are going to look at some of the materials from the outside
ETFE roof – 3 layers – different uses
Responds to sky – looks different in different lights
Acoustics of space / building?
Also glass wall – fixings. Structure behind
Relationship of materials to the playground, landscaping and existing / traditional materials
Pupils can learn from the nature of the materials and their characteristics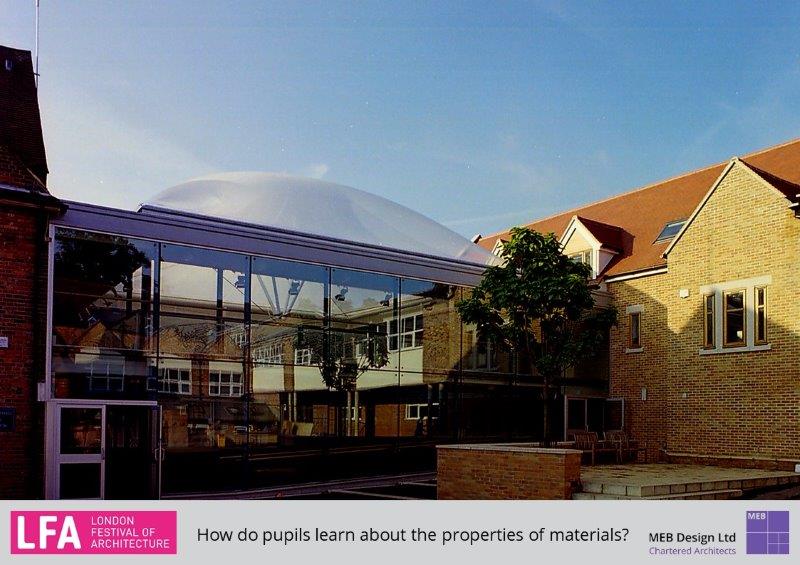 SCIENTIST – Can the Scientist learn from the environmental systems?
05: Bradfield College – Blackburn Science Centre
This was a building specifically designed with many features that are learning tools
Here we can see pupils looking into 2 outdoor ponds
Lower level – accessible ramps – wheelchair users
Visibility into side of pond = see what is going on below the water
Traditional view – top of the pond – mostly just see vegetation
Close to the building too so easy to take the pupils to work around the ponds.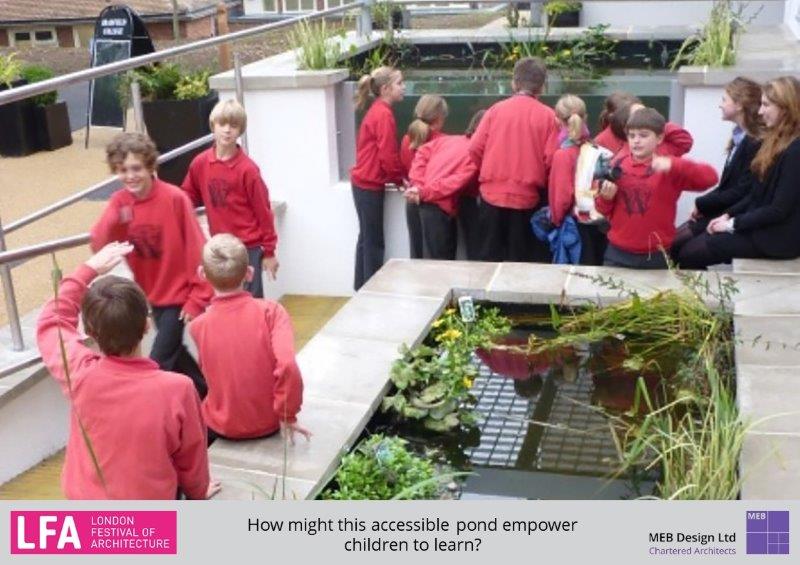 06: Bradfield College – Blackburn Science Centre
Competition win based on many of the environmental features included in the design
Here we can see people on the roof of the building
Environmental aspects are visible from here and can be explained
PV / solar panels
Ventilation strategy
Green roof – wild flowers – ecology / biodiversity
Even boiler flues from the Biomass boilers
Extra space on the roof – whole building becomes a teaching aid – outdoor / flexible = COVID?
Client feedback – Head of Science – more pupils signed up for science subjects since new building.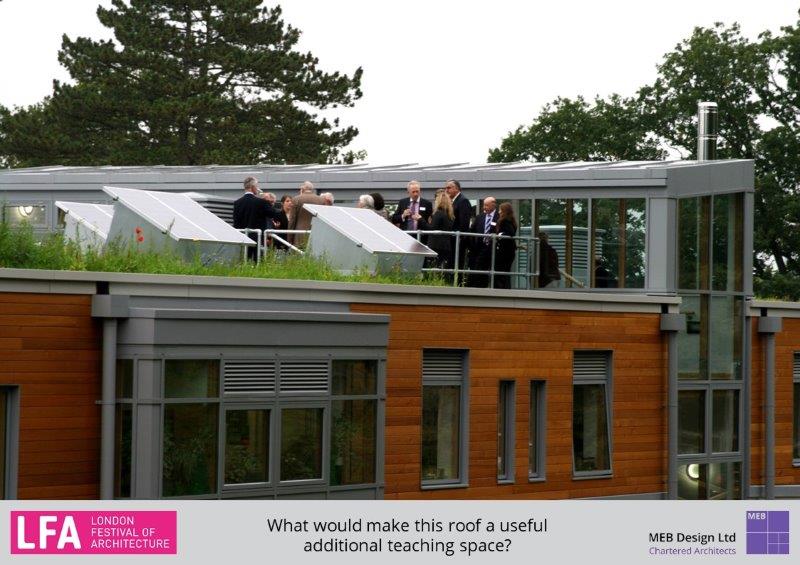 07: Beacon School – Science Lab  – Corridor
Here is Periodic table – set out and used as teaching feature in vinyl floor.
It makes corridor interesting and colourful, rather than common and mundane circulation area.
Children will be shown periodic table in books, or on teaching screen, or as chart on wall, but here is different way to interact with it and get to know and understand table better. Do we think floor shown here will do so?
Probably – you can imagine children using the colours as stepping-stones, or perhaps some game similar to hopscotch. The table creates childhood memory.
You can see elements are differently coloured; this creates life and interest, but you can also see elements have been colour-coded: orange for transitional elements / blue for noble gases / green for non-metals etc.
We hope it has helped the teacher talk about scientific content in a different way.
08: Beacon School – Science Lab  – Teaching Room
Here is adjacent classroom – there is same periodic table on TV screen.
The room has fixed units along both sides – supplying benches with things like gas and water for experiments.
But in middle are moveable tables in flexible arrangement. Desks can be put out in traditional way – individually in rows, or set our as tables for group work or discussion.
And electric floor boxes supply any arrangement of table as needed.
This ought to assist the teacher cover the different ways by which each of us learn.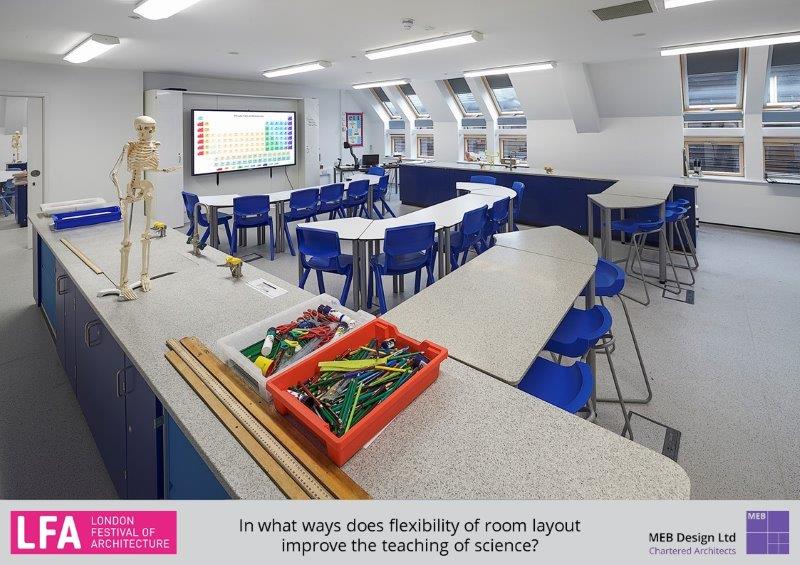 TECHNICIAN – What can technician learn from building technology?
09: Woodbridge School – Theatre
Picture shows quite sophisticated technical gallery in a school theatre.
You can see walkway – but also notice a grid across roof space above the auditorium level two floors below; see person on seat.
Grid is cable net floor which can take weight of people – including weight of person in wheelchair on tensioned wires.
It means whole technical gallery can be opened up to pupils not just staff because it is safe. It gives them access to lighting and other gear, where they can be taught how to angle and change the lights for different types of performance.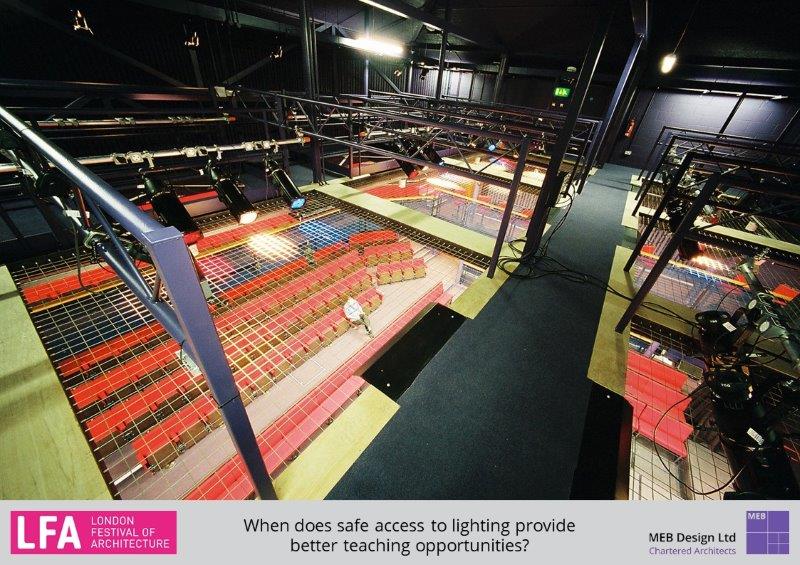 10: Woodbridge School – Theatre
Its the things cannot see which worth exploring here; and understand if we could have done better, should we want building to be teaching tool.
These hidden things include environmental services – matters to do with comfort and warmth; as well as operational mechanisms put in place to make theatre flexible – by rearranging seats and raising lowering extending or shortening stage, or moving things around stage.
Room needs plenty of air changes – when warm lights are on, it's warm summers evening and lots of bodies are packed closely together. All you will notice is small round swirl diffuser below seat along the bottom to do job, but must look hard.
Stage specifically can be raised or lowered on air pistons – the same way the tail gate of your car is raised without effort. It's not so sophisticated a way to ease effort and speed at which this can be done. But there is no way to know.
And would never know air technology used to move the proscenium.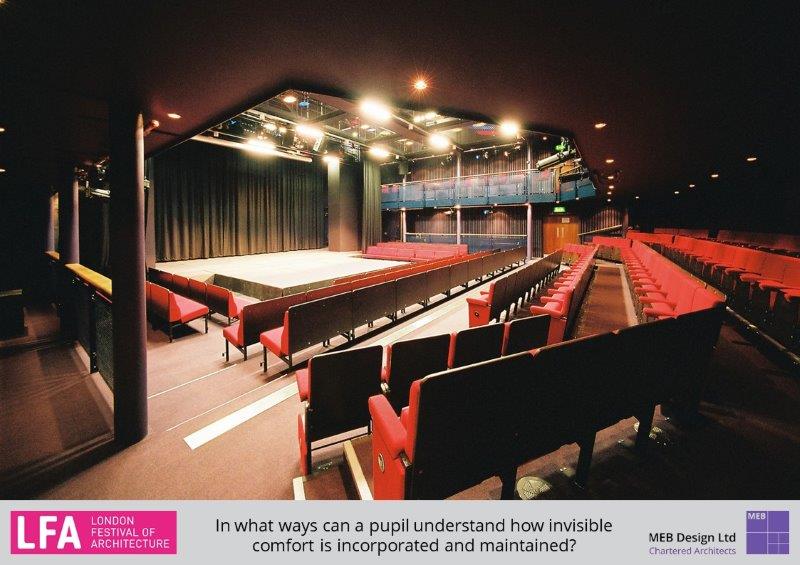 11: Queenswood School – Theatre – Viewed from stage
I do not know if anyone has counted number of rows in auditorium. Answer 11. It is not so far to back. The same distance applies to back of the gallery.
To compare this with many traditional school halls, might well be a 4 foot or more high raised platform one end, and maybe 20 or more rows to the other within much longer thinner room.
Imagine child standing on this stage in front of an audience. We now have benefit of microphones – but how would you train child to speak and project his / her voice so it gets to back of auditorium.
Design picks up this question: gallery was included, as it becomes natural for the child to lift head and get used to looking up – not down, as many traditional school halls might have encouraged.
And because it is not so far to the back, the voice will not have to strain at too young an age before is fully formed to be heard.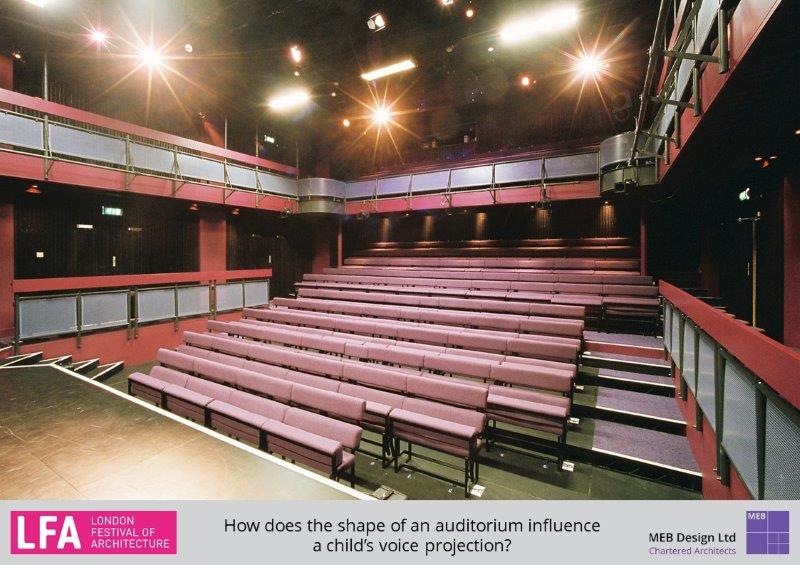 12: Queenswood School – Theatre – Viewed from gallery
Here is another view – from gallery looking towards the stage. As pupil you can get very aware of the technical installations if look.
In front of gallery upstand is lighting bar where lights are accessible and reachable
You could also operate follow spot on corner landing in front
Overhead void brought down low overhead, where you become aware of equipment not far away
You can see light is directional – onto stage and auditorium seats, leaving galleries and below in darkness.
This is what we might call an Entry Level theatre where all that is going on can be seen.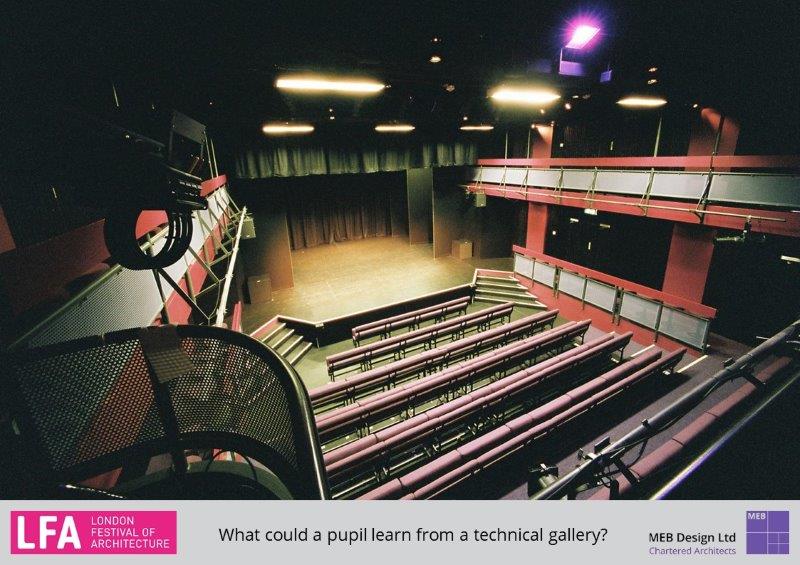 ARTIST – Can the artist learn from the composition?
13: Tonbridge School – Art CDT Department – Staircase
We sought to form shape and details of this staircase so would inspire design – and also in its own way provide focal hanging exhibition at the centre of a new Art and CDT dept.
You can notice various features on stairs: there is structure: coloured differently in red from steps in white. So stair's components are clear and noticeable / there are hanging rails between some supports to suspend hanging exhibition / there is double height handrail with lower part at good height for all pupils with higher rail above for safety
And from it you can see into the various departments and their different disciplines.
And people in them can see out.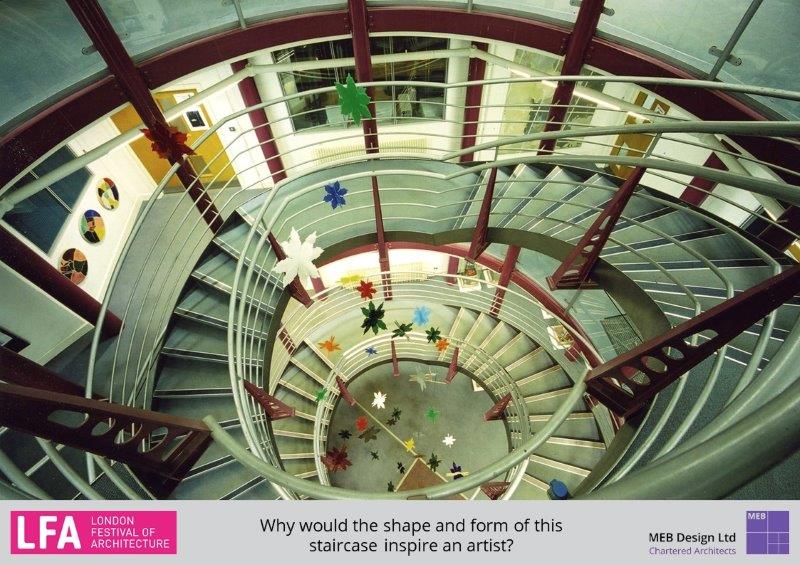 14: Tonbridge School – Art CDT Department – Teaching Space
Here is one of the teaching areas reached from staircase.
2 things are noticeable: it has open plan – so different areas flow into other areas, and above is gallery which looks down onto activities below.
The idea was for architecture to help pupils inspire other pupils – 14 year old up on the gallery can see what 18 year old is doing below and aspire towards something
And the connections between departments might help ideas cross pollinate between disciplines more easily than if there were doors and walls.
15: Dragon School – Art Design Technology Building
In the next slides we are going to talk about colours and materials…
Younger age group than Tonbridge – 8-13 year olds – different messaging
One of 4 studios – different identities
Art studious = pastel colours, softer, calmer
Pottery / Ceramics studio – earth colours, terracotta; Design Technology studio – primary colours – see later…
As well as colours, patterns – floor border – divides teaching from storage
Hopefully assists teachers in managing classes and inspires children.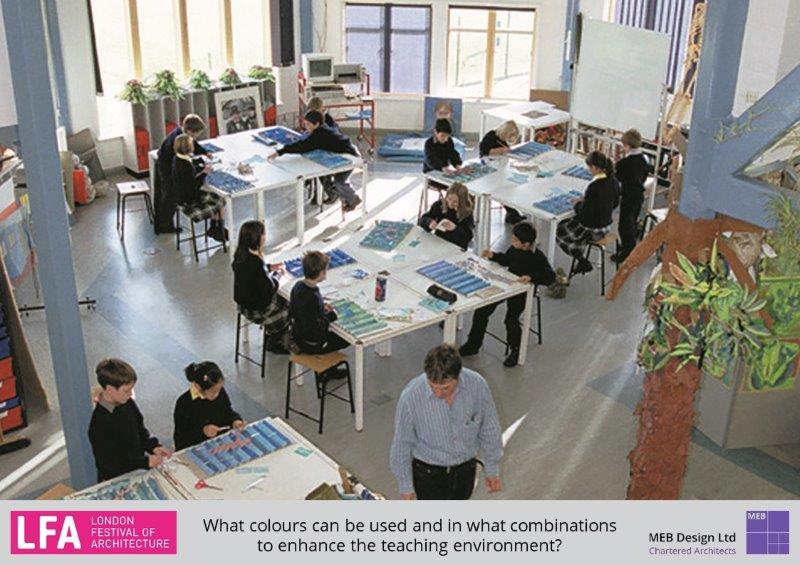 16: Dragon School – Art Design Technology Building
Design Technology studio – primary colours, very different feel
More active, busy, less calm = technology
1990s – "High Tech" – Pompidou Centre, Paris – exposed structure, services, colours etc
Also look at materials – structure again – visible, colourful, exposed joints
And glazing again – light, views, inter-connectivity between departments
Building acts as a prop and a tool and a reference point for pupils.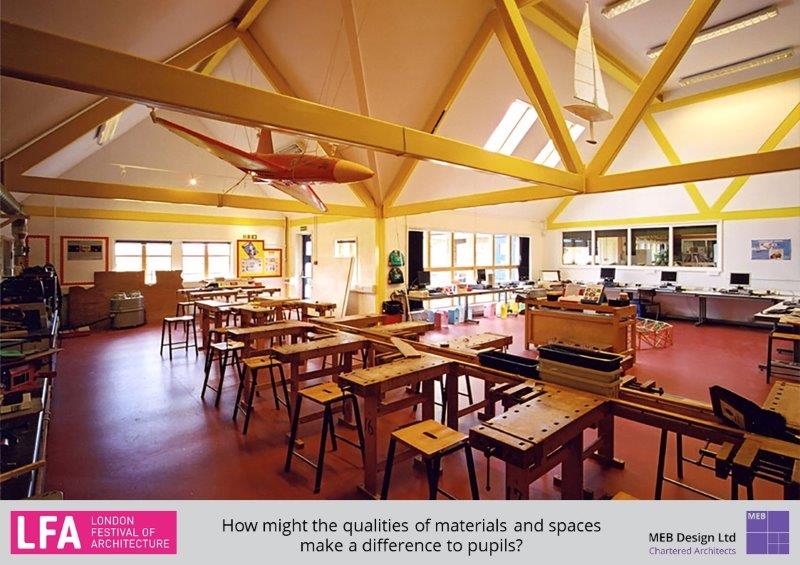 SPORTSPERSON – Can the sportsperson learn from the layout?
17: Manor Prep School – Sports Hall
What can pupils learn about sport from the buildings?
Sport not just about learning to do, but also how, performance, safety etc…
Materials, layout, technology in a sports facility can all teach us something
This sports hall – acoustic ceiling, lighting, windows – see later…
But looking at the floor in this picture – sprung floor, layers, surface, lines
It is about performance, as well as safety
Understanding primary use = important – basketball versus netball versus tennis etc
(also modern sports floors – University – glass, LEDs, line colours)
Pupils could learn a lot about their sports by looking at the environment around them.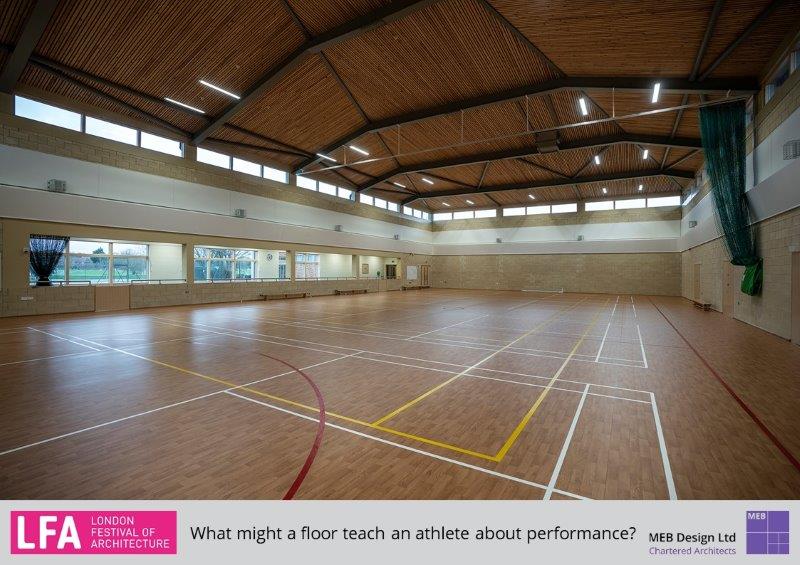 18: Manor Prep School – Sports Hall
Not just the actual sports facilities, but also the spaces around
This is the entrance lobby – arrival point from school
Glazed doors – visible, clear visible link etc
Entry is light and airy and spacious – more than just a corridor
Lots of markers about use and identity…
Floor pattern = tramlines, sense of movement etc – could this have gone further?
But also colours – school colours, team / house colours
Wall = school colour – trophy cabinet
Lessons about use, teamwork, identity embedded in the building.
19: Royal Grammar School, Guildford – Sports Hall
We mentioned light in the earlier sports hall slide…
Not just about the main spaces, Hall etc, but subsidiary spaces too
Here is a weights, training room – rowing machines, cross trainers etc
Different activities need different levels and quality of light – often recreating "outdoors"
Wall behind is a full height glazing system – but obscured
Thermal, acoustic and shading properties – diffused light
Gives as much natural light as possible, but also with privacy
Important for pupils to understand what external factors influence performance.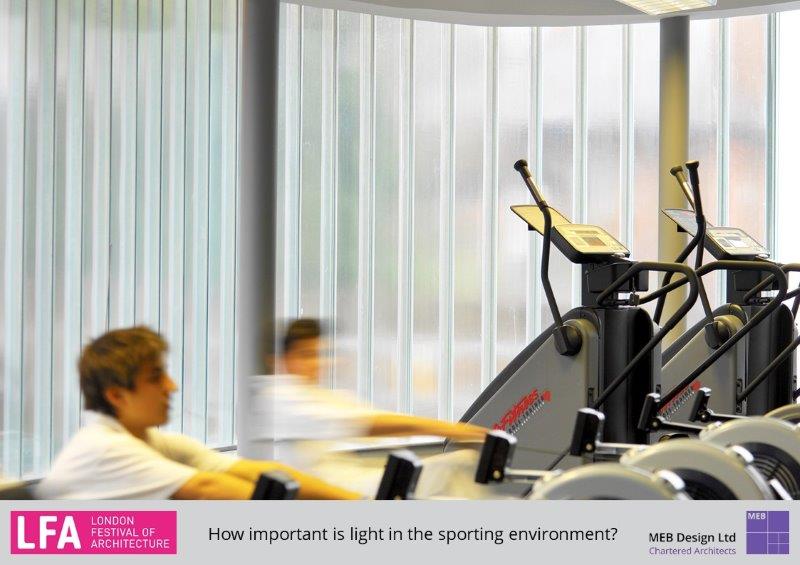 20: Royal Grammar School, Guildford – Sports Hall
Referring back to previous slides and light / windows…
High level lighting – angles / overhang = shading
But what other lessons can we learn from this space?
Look at how nets are attached and raised off the ground
Also recessed door handles and fittings / fixtures on the wall
Pupils can learn about playing safely, safe environments – need to understand
We know about safety in swimming, for example – Survival Awards etc.
But when kids go out to play in a park, yard etc – do they think about safety?
Pupils can learn the theory of sport as well as the practice of sport.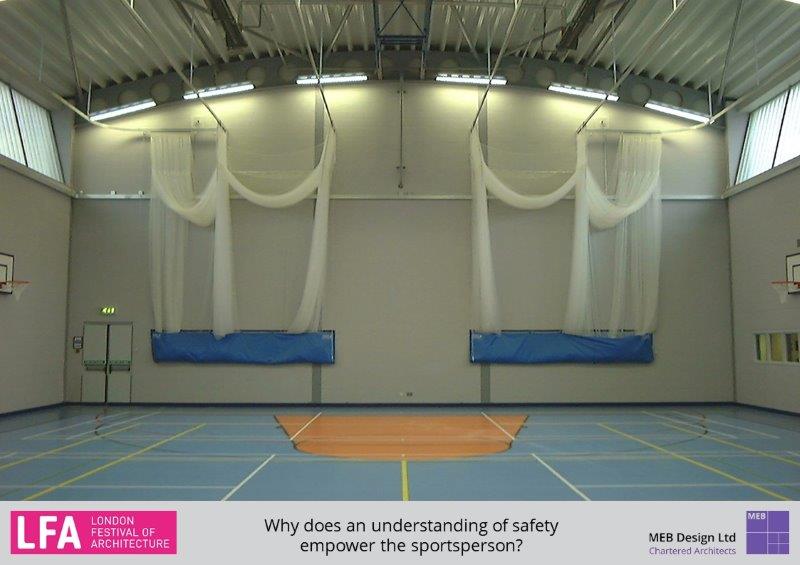 HISTORIAN – Can the historian learn from the fabric of the building?
21: Denstone College – Teaching Block
Always thought about buildings as stories which develop over time.
Here is Victorian School with much to say about the past by what is expressed in its architecture. It can be used as visual aid to historic facts and attitudes.
On left side is imposing Anglo Catholic chapel, would anyone know this has something to say about 2 sides of an ecclesiastical debate going on at time between Tractarians and Evangelicals, as well as saying something about religious priorities of its foundation.
Imagine boy arriving for first time. What message did receive in front of foreboding place? Something like this maybe: here starts your preparation for ruling empire. Here you will learn to stand on own feet, put away feelings, knuckle down and become man capable of looking after himself.
How do we build on this narrative in design terms in 21C? Our new classroom block there to right. Picks up some of language of gables and dormers of original building but is gentler softer response – taking up on sensitivities of our time, and smaller and lower in scale.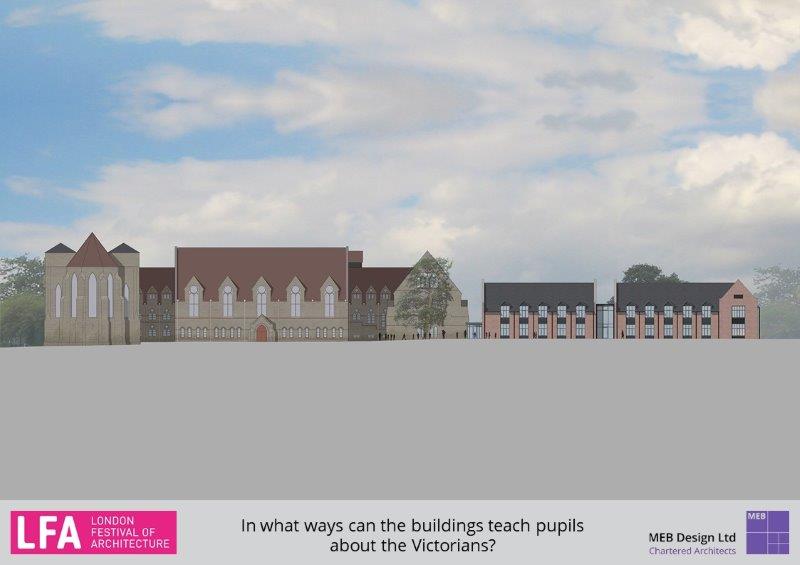 22: Denstone College – Teaching Block
When we go inside, we find how teaching has changed. Gone are long corridors, in comes an atrium. Gone is bleaker accommodation of more disciplined times, of learning by rote, Latin, and regimentation
Light / more warmth. You can often see out – or through.
Opportunity to connect, integrate across department and is space to interact in concourse as part of atrium.
These historic changes are clear, but does anyone notice and use the visual aid?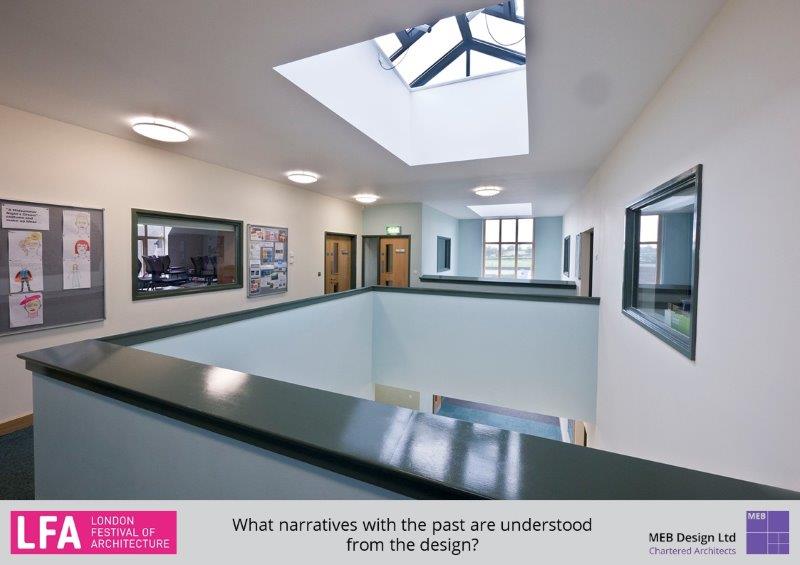 23: Abingdon School – "Big School" Refurbishment
When refurbishing old building, important not to lose narratives with the past
Also, uses of spaces can be reflected in simple things like decoration
Here a re-purposed classroom space – functional element = sliding wall = flexible
But "decoration" – image applied to sliding wall – "School of Athens" from Vatican
Philosophers, History, Theology – famous painting, historically inaccurate…
Part of series of similar images applied in different departments – identity / use
Rather than being a blank wall, this becomes a visual learning resource.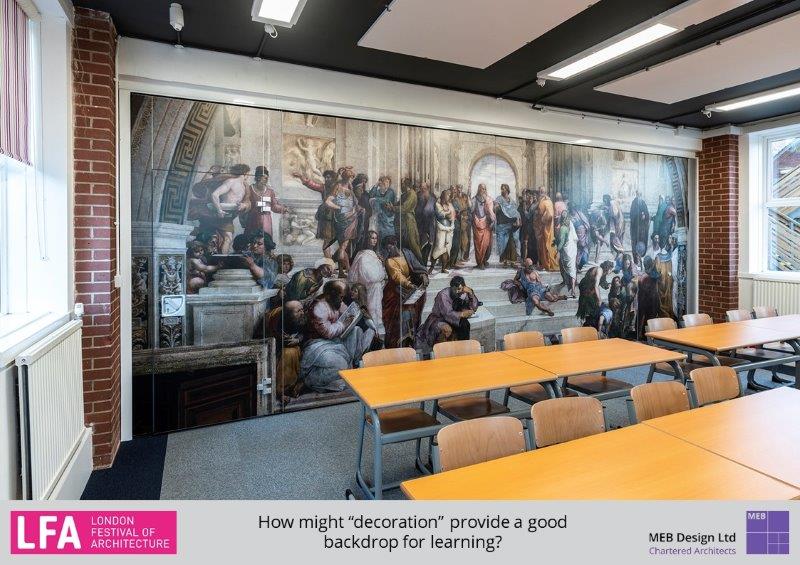 24: Abingdon School – "Big School" Refurbishment
Oldest part of the school – refurbished over the summer
Old School Library – no longer appropriate, fit for purpose – size, technology
But re-purposed at Staff Common Room – large enough for all staff to meet
History – old v. new – interventions = narrative of development, references
Visible changes, layers of history = history and ethos of the school
New use for the old "heart of the school"
Rather than being "centre of learning" has become "centre of teaching" = inspiring teachers.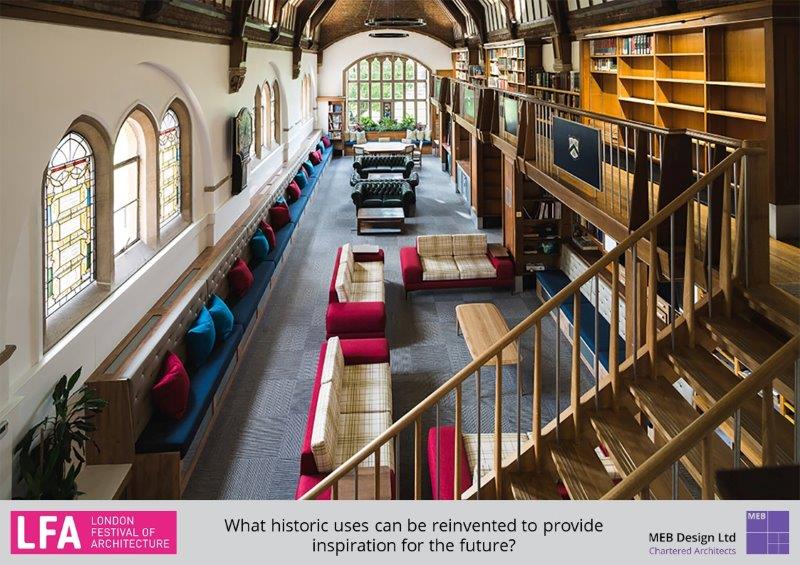 And to conclude…
Beaudesert Park –  Performing Arts Centre
We started and finished with images of this new Performing Arts Centre
This building embodies many themes we have talked about
– Sustainability measures, engineering, technology
– Relationship with history, identity and uses / users
– Teaching space – performance, music, dance = flexible, inspirational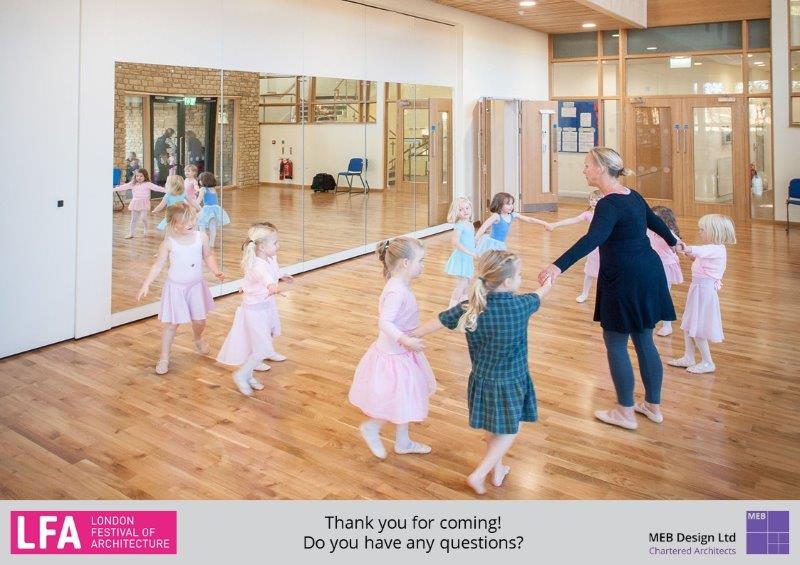 Thank you very much for reading.